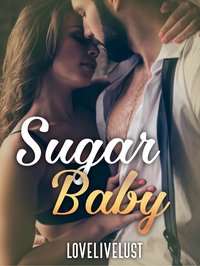 Sugar Baby
lovelivelust
56 k word
final
Introduction
"You need to shut up baby. Let me take care of your needs. Can you do that for me?" He unzipped my dress, as it falls freely down to the floor. ***** This lifestyle is not for everyone. That's the first warning, that she got from the woman. She's in need of cash. His parents suddenly got a divorce. Leaving her to struggle with her financial education alone. She never imagines at the end of her college years to be like this. Gone was the lifestyle that she used to have. The best friends, and even the boyfriend. She jumped at the first chance to be a sugar baby. Because deep down she knew that she needed the money, that it will be over in a year. Then she can find a job and move on with her life. He never needed a girlfriend. They're always too needy for his time. And time was the one thing that he treasure. He's a workaholic. He likes the arrangement of a sugar baby where he can pay a sum of money for a companion of a young attractive woman. His friend actually suggested the idea. With the last sugar baby being too attached to him. It's time for him to find another one. A less demanding one. Will he get what h
Preview
Chapter 1 It all Falls Apart
"What?? You can't just cut me off like that? I still have my tuition for one more year, then there's the school books and the apartment. Mother, father...you can't be serious?"
My parents told me to come home for an important family meeting. They informed me that they were getting a divorce, and since I was an adult they decide to stop my allowance and stop paying my monthly expenses, education also.
They gave all kinds of excuses from their lawyers' expenses, their new families, but what I heard was that they were cutting me off, leaving me, that they considered me as baggage from their previous marriage, and they wanted nothing to do with me anymore.
I was never close to them, well probably for the first ten years of my childhood life. But after that, it went downhill. They would fight every night. I couldn't even remember who cheated on who first. But their divorce was a long time coming.
Money was never an issue with them. They're both successful business people that was why it didn't make any sense when they said that they would stop supporting me. The only explanation was that they were cutting me off, that they didn't want to have anything to do with me.
"Lorraine darling, I will move to another state and so will your father. And I trust that you have the ability, to stand on your own two feet. You're twenty one already, just try it out, darling. We will leave you with two—month expenses in your account, and your car and apartment of course."
"But after that, we would expect you to support yourself. You need to learn to appreciate money....."
They both continued with their speech but I was done, I walked out of my childhood home. I looked at it for one last time, they said that they had already sold it, and would send my things to my apartment. I started my drive back to my place, my mind was working on overdrive.
For the next two weeks, my life had gotten even worse. My best friends decided I was not worthy of their time, since I was no longer rich. The news spreads fast amongst the wealthy. They found out about my parent's divorce, and about me being cut financially.
Even my boyfriend for two years broke up with me because his parents told him so. Apparently, Richard was groomed to be in politics, and me being a kid of divorced parents wouldn't look good on his profile.
I was seating alone in my apartment, secretly grateful that they all left me behind. If this is my life now. I need to get started, I still have money for the next month and a half now. But I need to find a smaller apartment and sold my designer things online to put money in my account. I need to pay for next year's tuition which is due in the next two months. The apartment was under my name already, but the maintenance side of it would take a great chunk in my account.
I was cruising on my laptop and already set up my new eBay account. I need to spread out my things and took pictures. But I decided to take a look at smaller apartments first...mmm maybe I should change my car also. The gas on that thing was life—threatening for my finances.
I was studying business major, so I had an inkling of what was needed to be done to survive. I needed to get rid of what was consuming my expenses the most. I already made a list on my notepad.
— Penthouse Apartment
— Gourmet food
— Weekend getaway
— Car Gas
— Beauty spa
— Weekly therapy
— Tennis
— Horse riding
— Stable for Princess
— Princess
I finally cried when I thought about Princess. She had been there for me throughout my teens up to today. I need to sell my horse and ended the lease on her stable.
So I decided to call Lucy at the Stable, telling her that I wanted to meet with her, and talk about selling Princess. She didn't sound surprised. Damn! She must've heard, about my parents also. Their friends hang on the same club that houses the stables.
Walking down to the lobby, Phil greeted me. "Ms. Matthews"
"Oh Phil, what am I going to do with you. It's been years. I told you my name is Lori. Please. I will be out of this building in a matter of weeks now." Phil looked sad but he nodded and call me Lori. He opened the door for me and tipped off his hat trying to look cheerful.
Oh...I'm going to miss the old man.
I went to the club, and straight to Lucy's office, we talk for about an hour. She actually already had a buyer for Princess, and the price was good.
Wow! She moves fast.
So I told her to go ahead with the sale. I went to say goodbye to Princess, I drain my tears as she kept nudging me for the treats that I brought her. I kissed her one last time and walk away.
It needed to be done. I can do this. People deal with the worst.
I went to the bar and buy one shot of bourbon, to give me strength after crying my eyes out. I was about to leave when a woman approaches me.
"Do you have time to talk? I might have a business proposal for you. We can change the venue if you'd like. I'm Adriana." She looked glamorous, sophisticated. I had no idea what she would want with me.
"Ehm... What kind of business proposal?"
"Why don't we grab lunch, and talk more. How about I meet you at the bistro across the street, fewer eyes there." She winked at me as I look at my surroundings. Few people were looking our way, I could see a couple of my parent's friends, with their pity eyes.
"Okay. I'll meet you in ten, I'm going to get my car."
Meeting a stranger in a bistro, for a shady business proposal.
Damn! I'm really desperate for money. Oh, fuck it! I'm just going to listen to her.
Full text

Scan QR code to download application